هذا يدفعنا للتفوق.
لتقديم خدمات ومنتجات عالية الجودة ، يتم تسليمها في نهج شراكة العملاء ، وتقديمها بقيمة استثنائية.
With its curtain track forming and setting machines, this plant forms the core of TOSO's manufacturing division, taking charge of producing TOSO's most key parts.
Equipped with the latest facilities for slat coating, stiffener processing and heat-cutting, this plant is in charge of producing TOSO's blinds.
P.T. Toso Industry Indonesia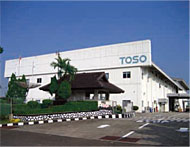 As TOSO's overseas manufacturing center, this plant has been awarded ISO9001 by the British accrediting agency,UKAS.
Quality, Based on Equipment and People
TOSO's high quality and agility are realized by all the machines and processes in an efficient operation, including forming machines with production capacities of one-million meters per month. Computer controlled machines responding to the demands for precise orders are combined with tight control with human eyes and hands, which assures TOSO's high quality.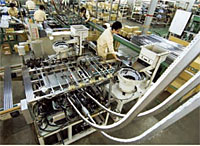 Curtain track setting process
Checking gauges beside a running cut machine
The Practice of Environmental Conversation
In 2002, TOSO became the first curtain track manufacturer to receive ISO 14001*, the international certification of the environmental management system. However, obtaining the certification is not the ultimate goal for environmental activities.
TOSO's Tsukuba Plant has achieved a goal of more than 99% recycling rate for waste materials. Working together with the manufacturing division, the entire corporation has been striving for an environmental conservation that will help us to pass on a rich and beautiful world to the next generation.
* Tsukuba Plant, Mitsukaido Plant, P.T TOSO Industry, Indonesia

Silent Gliss Corporation
TOSO Service Co., Ltd.
Fui Home Co., Ltd.
TOSO Ryutsu Service Co., Ltd.
P.T. TOSO Industry Indonesia
TOSO Window Treatment(Shanghai)Co., Ltd.