Home / Products / legato primo
Decorative Curtain Tracks
Using the Overlap MG Carrier for Hand provides better light shielding.
The Overlap MG Carrier effectively prevents unwanted light from streaming into a room. Light is kept out even where the curtains overlap in the middle. And the rollers run very smoothly.
*Perfect light shielding may not be possible depending on the type of window and installation method. Please consult a specialist when designing window covering for a darkroom or photo lab.
Use an IV Roller for an IV Rail.
New Delac's exceptional durability and safety make it ideal for use as an IV Rail in hospitals and other medical institutions. The IV Rollers are also designed to lock under the weight of an IV bottle. And the wheel parts are made of a special resin to effectively reduce sliding noise.
The Wave Style creates a feeling of naturally flowing fabric.
The curtains are draped in gentle waves about 1.5–2.2 times the width of window, resulting in a continuity of pattern and texture.
There is a natural wave in the curtains at intervals of 80 mm (3.2″).
With its tape and accessories, it creates natural, elegant symmetrical waves.
*Pleating cord keeps waves evenly shaped, making the curtain rich and stylish.
*For more details about Wave Style, please refer to the catalog "New Delac with Wave Style Components".
NT Bracket convenient when there is insufficient vertical space for installation
This bracket is convenient when there is insufficient vertical space for bracket installation.
It is firmly secured with just two screws. 
Brackets with a temporary hook makes installation easier.
(Excluding Extra Brackets)
This bracket holds a rail while allowong you to adjust a rail position. Once you finish adjusting a position, simply snap the rail into the bracket to secure firmly.
Smooth opening and closing with separate grooves for rollers and traverse cord.
Installation is easy and the cord is located in a groove to prevent it from becoming entangled with the rollers. The smooth-running rollers also assure easy opening and closing.
Partitioning is flexible, by using the Last-in Intermediate Stop
Last-in Intermediate Stop is usable both fix and open/close the curtain.
Curtain hook is fixed by turning the hole toward the front.
When the hole is turned sideways, MG Carrier can be attracted.
Can also be used with a Curtain Motor
(Powerful Series)
Exceptionally convenient for opening and closing wide curtains, curtains
installed in a high location, and heavy curtains.
Parts
Material
Finish
Rail
Silver
Aluminum alloy
extrusion material
Alumite
Umber
Alumite umber
Black
Alumite black
White
Alumite white
Warm white
Alumite Warm white
Parts
Material
Finish
Roller
Plate
Hard polyethylene
–
Wheel
Hard polyethylene
Oval ring
Stainless steel
End Cap
Body
Nylon
–
Oval ring
Stainless steel
Bracket
Body
Steel
–
Hook
Acetal resin
Bracket Installation Interval and Allowable Curtain Load
Installation and Caps Dimensions
Bracket width = 18 mm (.71")
Bracket width = 18 mm (.71")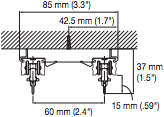 Extra Ceiling Double Bracket
Bracket width = 23 mm (.91")
Bracket width = 19 mm (.75")
Bracket width = 19 mm (.75")
Bracket width = 24 mm (.94")
Bracket width = 25 mm (.98")
Bracket width = 44 mm (1.7")
Size
Product Code
Silver
Umber
Black
White
Warm white
1.82 m (72″)
00210120
00210036
30010561
00210346
00210226
2.00 m (79″)
00210121
00210038
30010562
00210347
00210227
2.73 m (107″)
00210122
00210039
30010563
00210348
00210228
3.00 m (118″)
00210123
00210040
30010564
00210349
00210229
3.64 m (143″)
00210124
00210047
–
00210350
00210230
4.00 m (157″)
00210125
00210048
–
00210351
00210231
Curved Rail
(180 mmR/7.1″R)
0.40 m x 0.40 m
(16″ x 16″)
00210126
00210045
30010565
–
00210232
1.00 m x 1.00 m
(39″ x 39″)
00210035
00210046
30010566
–
00210233
Overlap Rail 0.50 m (20″)
00210208
00210043
30010567
–
00210234
See features and optional functions in detail in the catalog
Product Name
Product Code
Roller
Roller


(8 pieces per strip)



Natural
00210027
Umber
00210185
MG Carrier

Natural
00210054
Umber
00210186
One-way  MG Carrier

Natural
00210053
Umber
00210187
NN Roller
(for last-in)
00210008
Noiseless Roller


(8 pieces per strip)



Natural
00210188
Umber
00210051
Noiseless MG Carrier
Natural
00210189
Umber
00210050
Noiseless One-way MG Carrier
Natural
00210190
Umber
00210049
Roller
Extra Double Bracket

Silver
00210109
Umber
00210082
White
00210329
Warm white
00210157
Ceiling Single Bracket

Silver
00210191
Umber
00210192
Black
30010576
White
00210326
Warm white
00210193
Ceiling Double Bracket

Silver
00210219
Umber
00210220
Black
30010577
White
00210327
Warm white
00210221
Extra Ceiling Double Bracket

Silver
00210107
Umber
00210196
White
00210353
Warm white
00210197
Overhead Hanger

Silver
00210105
Umber
00210198
Black
30010578
White
00210330
Warm white
00210199
Wall Bracket

Silver
00210015
Umber
00210201
Black
30010579
White
00210331
Warm white
00210202
Roller
New Delac Wave Style Roller Set
(100 m)

00210355
Soundproof Packing
Silence effect improves together
it with Noiseless Roller.

00210023
Overlap MG Carrier for Hand

00210006
Bracket
Single Bracket

Silver
00210213
Umber
00210214
Black
30010574
White
00210324
Warm white
00210215
Extra Single Bracket

Silver
00210012
Umber
00210084
White
00210328
Warm white
00210155
Double Bracket

Silver
00210216
Umber
00210217
Black
30010575
White
00210325
Warm white
00210218
NT Double Bracket

Silver
00210222
Umber
00210223
White
00210352
Warm white
00210224
*1 For a curved rail, use with a rail with a radius of 240mm (9.4″) or more. A rail with a 180 mm (7.1″) radius can not be used.
Product Name
Product Code
End Caps
End Cap

Natural
00210010
Umber
00210086
Black
30010572
End Stop B

Natural
00210135
Umber
00210137
Black
30010573
White
00210332
Warm white
00210200
Last-in Intermediate Stop

30009046
Intermediate Stop

00210134
Return Aids for End Stop

00530063

Cord Draw

Parts

Pulley Set

Silver
00210002
Umber
00210081
White
00210333
Warm white
00210159
Master Roller

00210262
Long Master
Roller

00210264
One-way
Master Roller

00210001
Overlap Cord draw Parts Kit

00210225
Traverse Cord
2.8 mm DIA.
White
00580009
Tension
Pulley 240
White
00500005
Brown
00500002
Tension
Pulley 450
Silver
00500007
Other Parts
Splice for Aluminum Rail

00210128
OT Splice

Silver
00210024
White
00210323
Adjustable Hanger Rod A

A170
(130–170 mm
/5.1″–6.7″
Silver
00290034
White
00290038
A250
(170–250 mm
/6.7″–9.8″
Silver
00290036
White
00290039
A400
(245–400 mm
/9.6″–16″)
Silver
00290017
White
00290040
A700
(395–700 mm
/16″–28″)
Silver
00290016
White
00290041
A1100
(595–1,100 mm
/23″–43″)
Silver
00290015
White
00290042
A1600
(845–1,600 mm
/33″–63″
Silver
00290014
White
00290043
Other Parts
Adjustable Hanger Rod B

B400
(250–400 mm/
9.8″–16″)
Umber
00290013
White
00290026
B700
(400–700 mm/
16″–28″)
Umber
00290012
White
00290025
IV Roller


Allowable load 10 kg (22 lb)

00210052