Functional Curtain Tracks
Four operational choices are available.
Precautions when drawing a curtain from a low position.
When the curtain is closed
Precautions:
Make sure the bottom hem of the curtain does not drag along the floor.
Use a Cord Stopper to stop the curtain at a desired position.
*Using the attachment screws, secure the Cord Stopper in a position where it is easy for a traverse cord to stop.
The Wave Style creates a feeling of naturally flowing fabric. The curtains are draped in gentle waves about 1.5–2.2 times the width of window, resulting in a continuity of pattern and texture. There is a natural wave in the curtains at intervals of 80 mm (3.2″). With its tape and accessories, it creates natural, elegant symmetrical waves.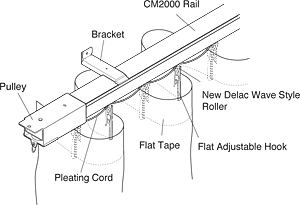 Direct attachment (Slope)
Front

Direct attachment (Slope)
Side
Single Bracket attachment
(Bracket width: 19 mm/.75") (Cord Draw)
Single Bracket attachment
(Bracket width: 19 mm/.75") (Slope)
Size
Product Code
White
6.01 m (237″)
65150001
Parts
Material
Finish
Rail
Aluminum alloy
extrusion material
Alumite white
Applicable Range for Slanting Window
Max. slanting
Max. installation height
Max. curtain weight 

(*1)

45°
7 m (276″)
5 kg (11 lb)
Bracket Installation Interval and Allowable Curtain Load
Product Name
Product Code
Master Roller

64910110
Pilot Roller

00510198
New Delac Roller


(8 pieces per strip)



00210027
New Delac
Wave Style Roller Set
(100 m)

00210355
Ceiling Single Bracket

00210326
Single Bracket

00210324
New Delac
Intermediate Stop

00210134
Single Pulley

6697002
Product Name
Product Code
Double Pulley

66970021
Traverse Cord 2.8 mm
DIA.
White
00580009
Tension Weight

57820001
Cord Stopper

58430004
Notes: Please use New Delac brackets. Only single brackets are recommended for wall attachment.
See features and optional functions in detail in the catalog